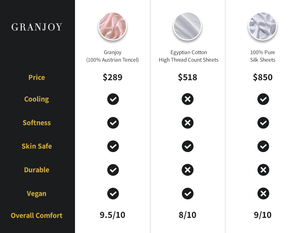 Tencel Bed Sheets Benefits
Tencel Bed Sheets VS Cotton Bed Sheets
Compared with cotton bed sheets, tencel bed sheets are so much softer and cooler. It is the coziest choice for bedsheet for the warm weather in Singapore.
Tencel VS Silk Bed Sheets
While silk bed sheets are also very cooling, however, real 100% silk bedsheet comes with a huge price tag. Tencel bedsheet is an affordable luxury for bedding. Furthermore, tencel bed sheet is vegan.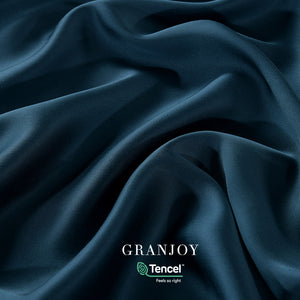 How Important Is Thread Count When It Comes To Choosing Quality Bedsheet?
What Is Thread Count?
The thread count is a measure of the number of threads per square inch in a fabric. This includes both vertical and horizontal threads running across the fabric.
High Thread Count Does Not Equal To A Softer And Cooler Bed Sheet
Thread count is not an accurate way to measure Tencel or bamboo sheets. This is because these materials are naturally so soft and smooth that you don't need as many threads to achieve the same results as you would with cotton. If you want to know whether a set of Tencel or bamboo sheets is good quality, look at the fabric content label — it should list 100 percent Tencel or bamboo fiber.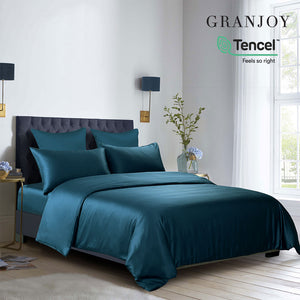 Softest Coolest Tencel Bed Sheets
What is Tencel?
Tencel bed sheets are made from a material called Tencel Lyocell, a fibre made from the pulp of the eucalyptus tree. It is treated with enzymes to make it softer and more absorbent than cotton and stronger than silk. It's often used in luxury bedding because it's so luxurious and soft!
What are the benefits of tencel bedsheets?
Tencel bed sheets are not only cooling and soft.
Breathable
Tencel is a breathable material that allows air to pass through easily and prevents moisture from building up. It is perfect for hot sleepers who need their beds to be cool at night. It also helps prevent sweating.
Anti-Bacterial
Tencel bed sheets are also anti-bacterial, which means they can prevent bacteria from growing on them over time. This makes them perfect for those who suffer from skin conditions such as eczema or psoriasis, as they can help prevent flare-ups when using these sheets every night! You won't have to worry about waking up in the morning with any irritation.
Comfortable
Tencel sheets feel soft against your skin, even when they're new. Unlike cotton and other natural fibers, they don't get rough or scratchy over time due to wear and tear. That means you won't have to worry about buying new bedsheet every few years like many people do with regular cotton sheets.
A alternative bedding for senstive skin
For somebody with sensitive skin, they may have trouble sleeping at night because of the bedsheet that cause irritation to the skin. However, if you switch to tencel bed sheets, this may help to prevent such happening. This is tencel fabric are made from natural cellulose from Eucalytaus tree, which is hypoallergenic and resistant to dust mites which are one of the most common causes of allergies in people with sensitive skin.