Bed Bug Pillow Protector
$20.00
Regular price
$38.00
Unit price

/

per
Quantity selected exceeds current stock
🚚 You've Unlocked Free Shipping within Singapore in 2 - 3 business days.
International Shipping in 8-15 business days.
Keep Your Pillows Clean And Dry With Granjoy Pillow Protectors
Waterproof Bed Bug Proof Pillow Protector
Protect Against Dust Mites And Bed Bugs And Fluids Spills
With Invisible Zipper Enclosure, It Completely Block Out Bed Bugs, Allergens and Dust Mites
Protect your pillow from sweats, perspiration, fluid spills and hence preventing stains to your pillow
Size Of Pillow Protector: 48cm X 74cm
100% Waterproof TPU Membrane With Oeko-Tex Test Certificate from Switzerland
Bed Bug Proof Test Certificate
Made with premium quality moisture wicking polyester on the top surface that wick away the fluid, keeping you cool and dry, providing a comfortable pillow for a good head rest
The TPU coating on the underside of the pillow protector prevent water from seeping through to the pillow and prevent dust mites from collecting inside the pillow
Need more than 1 piece? Buy 2 pieces at lower bundle price.
Ultimate Protection
Against Bed Bugs, Dust Mites and Fluid Spills
Granjoy bed bug pillow protector provide ultimate complete protection for your pillows against bed bugs, dust mites, fluids spills, urine, bedwetting, perspiration, sweat and allergens.
Bed Bugs No More
Leave No Room For Bed Bugs To Hid Within Your Pillows
Bed bugs are nasty and tricky creatures. They usually hid at some corners within your pillow. Come out in the middle of the night to bite, and then hid back to the pillow waiting for the next day feast on you. Granjoy bed bug pillow protector completely sealed up the entire pillow, leaving no room for bed bugs to seep into and hid within the pillow and coming out in the middle of the night to bite you.
360° Protection
Hidden Zipper
Granjoy bed bug pillow protector completely sealed up the entire pillow with its propriety design hidden zipper. Our pillow protector provide 360° protection that ensure no bed bugs are unable to enter or exit the pillow.
Prevent Entry and Exit Of Bed Bugs
There is totally no room for bed bugs to seep into and hid within the pillow and coming out in the middle of the night to bite you. For bed bugs that are already hiding within the pillow, our special zipper lock these bugs within the pillow. They are unable to get out of the mattress to feast on you.
Protection Against Dust Mites
Granjoy bed bug pillow protector also protect against dust mites and the allergy caused by dust mites.
The TPU waterproof membrane on the underside prevent dust mites from moving up and down the pillow. Hence, preventing dust mites from collecting onto the pillow. It is always a good idea for those who suffer from daily allergy and asthma triggers beside protecting your mattress also protect your pillows from dust mites.
100% Waterproof
Made from 100% waterproof and breathable fabric with smooth and comfortable surface touch.
Granjoy zippered pillow protectors are specially designed to wick away water, fluids, perspiration and urine. It block out allergens and dust mites for a good night sleep.
Granjoy Zippered Mattress Encasement For The Whole Family
Keeping Your Brand New Mattress Protected
You have invested on a brand new mattress. It is time to keep it protected from fluid spills, perspiration, bed bug and dust mite.
Protects against children bedwetting
Our products are made in compliance with baby and children safe standard – Check Out Our OEKO-TEX certificate here.
Elderly Incontinence issues
Keep your elderly mattress dry and clean with the waterproof mattress protector. The fitted design make it easy for changing the sheet when wet.
Granjoy Pillow Protectors – More Than The Average Plastic Pillow Protector
You need more than the average plastic feel pillow protector to protect your bed from bed bugs, dust mites, fluid spills, urine, sweat and perspiration.
Granjoy premium quality bed bug proof pillow protector is designed from beginning to end to provide 100% ultimate protection.
Noiseless – No Crinkling Sound
Many other plastic pillow protectors make a lot of plastic crinkling sound when lay onto. This certainly is very disturbing for a good night of sleep.
Granjoy waterproof pillow protector is made differently, it is noiseless when sleep onto. There is no crinkling sound because we use high quality polyester on the top surface.
Encasement
Easy to install pillow encasement that comes with hidden zipper. It is easy to install and remove.
Machine Washable
Our pillow protectors are machine washable in normal temperature water. To make the pillow protector more lasting, it is best to avoid drying in dryer. Best to sun dry or air dry it for it to last longer.
Size Chart 
Care & Washing
Adding product to your cart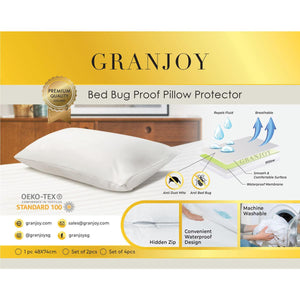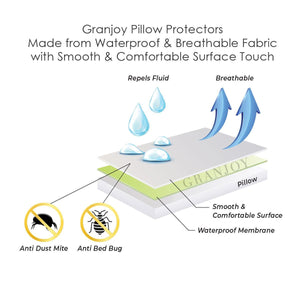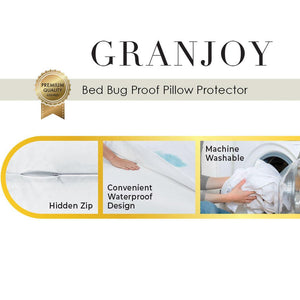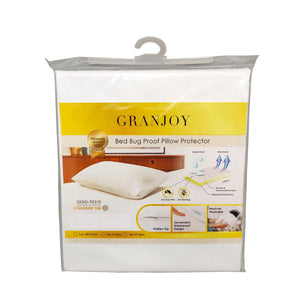 Hear From Our Happy Sleepers
Don't just take our word for it.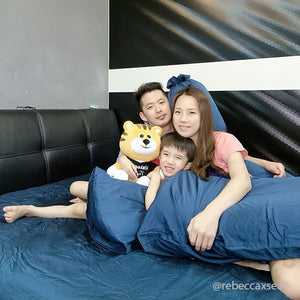 Rebecca Seah
Loving Granjoy Premium Bedsheet set. The material is cool to touch and it is so soft and smooth , felt like a second skin 😍 Kyan and hub muttered SO SHIOK the moment they lie on it 🤭 I love how this set of bedsheet is Hypoallergenic as Kyan's skin is more sensitive.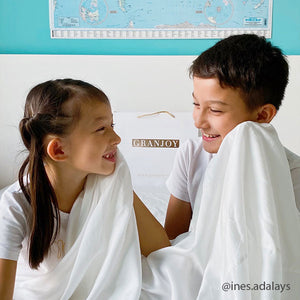 Ines & Gus
Big Brother is looking so refreshed as quoting him, he had the 'best sleep ever!'. And his best sleep ever was on this super soft Granjoy Bedsheet Set. I am so getting Mummy to buy me a Granjoy Premium Bedsheet Set too as I will like to experience the 'best sleep ever' as well.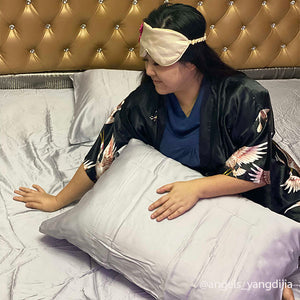 Angels Yang
Granjoy premium bedsheet definitely matches my luxurious style bedroom. My husband and I were amazed how cooling and silky the bedsheet when the moment our skin touches it.
K
Karen Yeo
(Singapore, SG)
Thumbs up!
Bought this together with the bed bug mattress encasement! Good quality!
Bed Bug Pillow Protector - Good
Bought bed bug encasement, pillow and bolster protectors during the recent sales as my husband and I have bad experiences with bed bugs. The quality is amazing and comfortable when put on. 10/10 will recommend it to others who had bed bugs issues in the past too!